The CFX384 Touch Real-Time PCR Detection System is a powerful and precise real-time PCR instrument in a 384-well format, for researchers who require both ease of use and rapid, high-throughput data acquisition. The CFX384 Touch System utilizes accurate temperature control and sensitive, 4-color detection optics to deliver reliable and repeatable qPCR results for singleplex or multiplex reactions.
Quickly set up runs and monitor amplification traces in real time on the integrated LCD touch screen, or use CFX Maestro™ Software to easily and intuitively design your experiment and analyze results from a connected computer. With up to four-target detection, unsurpassed thermal cycler performance, unrivaled stand-alone functionality, and powerful software, the CFX384 Touch System was designed to advance your qPCR.
Specifications :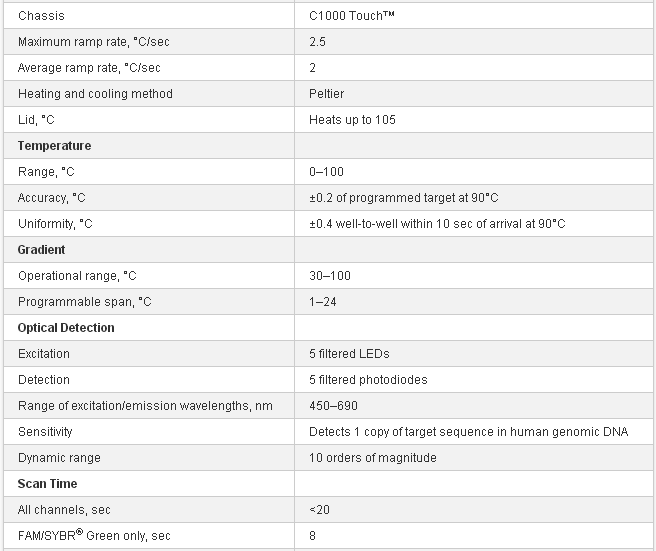 Key Features and Benefits
With the CFX384 Touch Real-Time PCR Detection System you can:
• Obtain precise quantification and multiplex target discrimination – optical system uses long-lasting solid-state technology with 5 filtered LEDs and 5 filtered photodiodes
• Configure the system to fit your laboratory needs – optimized design lets you run without a computer, run up to 4 systems from 1 computer, or integrate with the CFX Automation System II for higher throughput
• Confirm system performance and data reliability – internal system qualification and system test software, automated data quality control, and various validation tool services are available
• Obtain accurate results with volumes as low as 3 µl – minimize sample and reagent usage
• Easily integrate with your laboratory information management system (LIMS) – integrate with any LIMS using built-in LIMS file management
• Combine the CFX384 Touch System with good laboratory practice standards – use CFX Maestro Software, Security Edition, which complies with U.S. FDA 21 CFR Part 11 regulations, for data collection and analysis
Flexible CFX Systems Configurations Meet Your Throughput Needs
The CFX Automation System II works with all CFX Real-Time PCR Detection Systems to enable walk-away, high-throughput qPCR operation. Integrate this robotic plate handler with one or two CFX Systems to maximize throughput while maintaining a compact footprint.
دریافت کاتالوگ